BOLO TIE TONY
WORDS Anthony Swain
TONY is from Buffalo, New York. He grew up fighting in school and crossing the bridge into Canada to go drink with his friends on the weekends. He's a stocky Italian of a man, a sort of classic rowdy New Yorker with a heart of gold. When he moved out here he bounced around working in kitchens, deli's, saw the end of Leona in Venice, and helped open Lupetti's downtown before settling in at Lodge Bread Company in Culver City.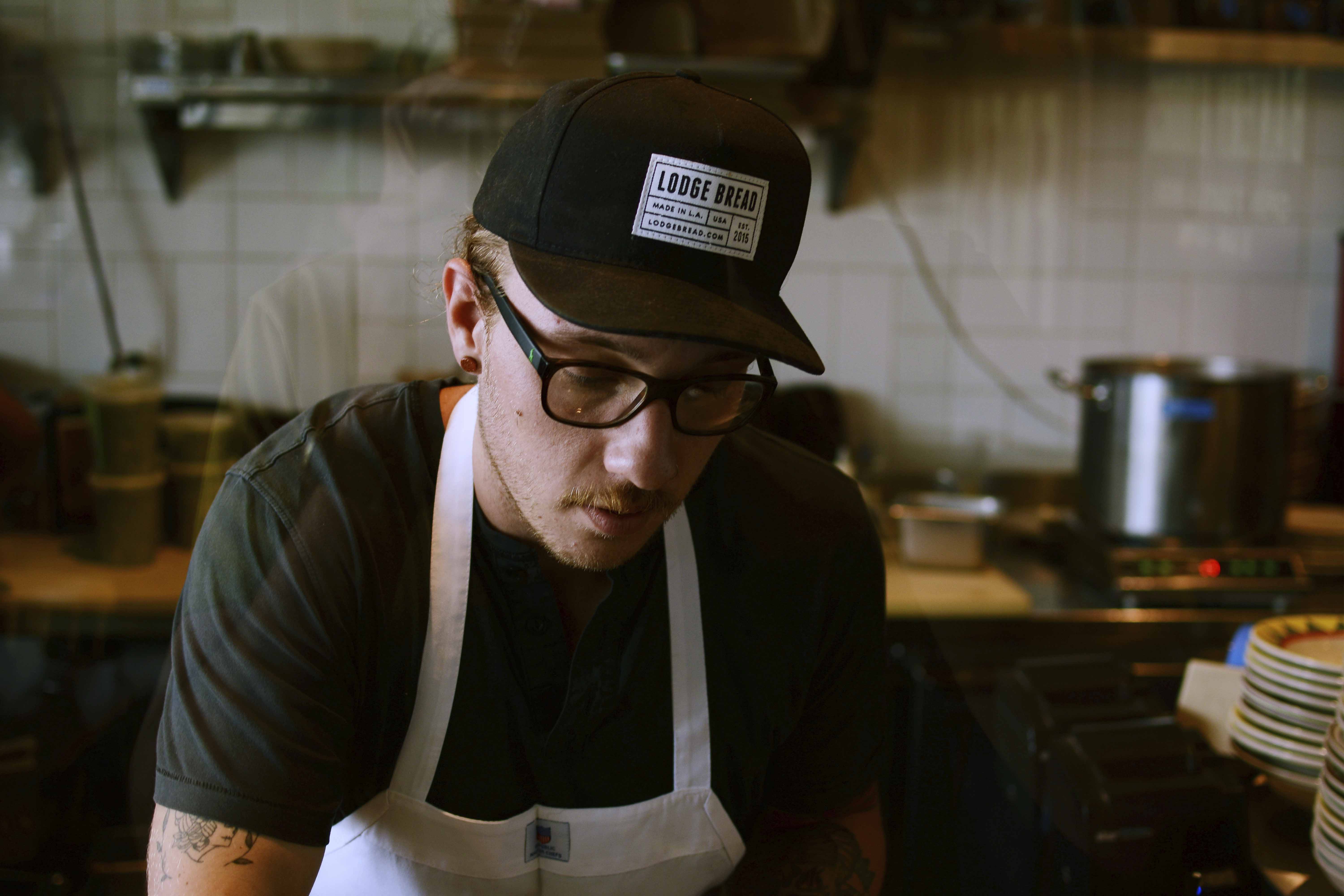 HERE'S the thing. People talk about finding success. I feel successful right now. I think the thing for chefs is…

A chef's goal in life, to me, is to impact the industry. I think that for most chefs, for most great chefs at least, the reason that they're doing what they're doing is because they love food and you love the people. Even a lot of us cop out with this, "Oh, we hide in the kitchen because we don't like people, et cetera." We might not like people, but we love people, and that's why we put so much care into every dish. Every single plate that goes out is crucial.

You look at different chefs, and what they do now, and what they've become, where it's farm-to-table and a focus on sustainable farming, that's changing the industry. It's not necessarily inventing new dishes, but it's reimagining the way these dishes are done.

Of course, I would eventually love to have my own restaurant. You could be the Grant Achatz, or here locally, you could be the Jordan Kahn from Vespertine. You could do something that people aren't doing, and it's very technical, like plating scallops that look like a flower, or spoon plating, where it's one bite on a spoon, but it's packed with so much flavor. To go eat at Alinea in Chicago would be $325-$350 a person, and then a wine pairing is going to be $200 on top of that. And it's spoon plating. But they do cool stuff like bring you an edible helium balloon, where you eat the balloon and the helium hits and you're giggling. Achatz talked about it on multiple occasions. You never see someone giggling in a three-Michelin star restaurant after spending six hundred dollars on food. And that's pretty fucking cool, to create a high-pitched giggle in these so-serious adults, but that's ego, and what it is when it comes to the Michelin guide, and this molecular-gastronomy, to me, is yes, you're changing food, but what you're doing is feeding your ego, and there's nowhere for that to really go. You hit three Michelin stars, and then either you lose stars and run it into the ground, or you close it yourself. That's the pinnacle. That's as far as you can take that.

I left Leona at the end of 2016, when I came to Gjusta, but working for Nyesha Arrington was the highlight of my young career because she was on Top Chef, she was a celebrity, and we were cooking for all these great chefs. I got to put food in front of Martin Samuelsson and Scott Conant, and that was literally my first day at work. It was a James Beard Foundation dinner. We took over Red Bird, Neal Fraser's restaurant in Hollywood. It was crazy. They were giving away luxury cars, it was a whole charity event. We cooked eight hundred coq a vin on a griddle and an induction burner; crazy. Well, it's a spin on traditional coq a vin because she worked at Mélisse with Josiah Citrin.

It was my first paid shift too–I had staged for two weeks before I got the job–and she was packing up her Range Rover with all this shit and she tells me to grab whatever I can and throw it into the trunk, and all I was thinking was, where are we going! Where are we about to cook? And that's when she tells me, the day of: the James Beard Foundation is throwing this silent auction and we're one of the star booths and we have to cook. We had literally a griddle and an induction burner, chicken pavé, pickled mushrooms, some truffle aioli, and we show up and it's a fucking mess. I'm running all over this huge, multi-kitchened place just trying to find two bottles of red wine to reduce over the course of thirty minutes on an induction burner in a cast iron dutch oven. When that's started, I have these tiny 4in. X 1in. rectangles of chicken pavé, that I'm basing the clarified butter and cooking on a griddle and I have to cook them perfect to order, and they're plating, and it was just fucking ridiculous on all levels, and I fucking loved it.

"I'm running all over this huge, multi-kitchened place just trying to find two bottles of red wine to reduce over the course of thirty minutes on an induction burner in a cast iron dutch oven."

Three days before we had to fly to Miami and hop on a ship to cook. This was all for Leona, which is no longer around. It was there for a year. We got on the 101 list asap, and then boosted twelve more spots to 84 on the 101 list. Then I don't know what happened. I've heard that spot turns around quick, and her other restaurant Native just closed, so I don't know the business side of it per se, but with her it was always on-the-go, we always had to go do stuff. We did an Outstanding In The Field event on Catalina, and it would be, boom! You have to meet with these people to coordinate and plan a menu to cook on a beach. But it was the epitome. I was twenty-two, cooking for Nyesha, I was a junior sous chef, and it was crazy.

But then when it shut down, we came into work one day and the whole front of house staff is sitting in our closed dining room, which we're open for lunch, but I guess not this day, and the management and ownership team were telling them that they were fired and we were closing down our lunch and brunch service, and nobody knew before. They had no idea, just boom.

So we come in, the back of house, and that's the first huge red flag of "we're fucked." That was when I started looking and I ended up stumbling into Gjelina and I came across Trip, one of the managers, and I ask for an application. I'm in my whole chef get-up, because I came straight from Leona, right down the street basically, on Washington, right by Hinano's.

Crazy, it was a year build-out, a year of service, and then the restaurant closes. But anyways, I ask for an application, and this guy Trip, I didn't know who he was, says, "Well, do you know where you are? You don't have a resumé?"

I say, "Listen dude, give me a piece of paper, and I promise you'll offer me a job at the end of this, alright?" I just write down my resumé on the spot on a piece of printer paper, and it was chicken scratch, and in a few days I get a voicemail from Greg, and I can't understand a fucking word he's saying, but they offered me two jobs at Gjusta–expo and a kitchen thing–and two jobs at Gjelina–busser and some small position in the kitchen, like garde manger.

I was so deflated from the Leona situation that I took the expo position at Gjusta. They told me the pay, I knew the place was crazy, I was down. I actually came straight to Gjusta when I first got to LA and hand my resumé to some guy at the express line, and it was busy, and I'm pretty sure it was Brian actually.

I tell him, "I need you to give this to the chef and have him call me." Because I'm freaking out. I'd been in LA for just under a week, and no one's gotten back to me.

I was staying in a studio apartment with my best friend from back home, Mike. It was $1200/month in Mar Vista at Washington and Wade, and it was big enough that we fit a futon and a queen-sized bed next to each other and we would take turns–week on, week off–who would sleep on what. And it was so hot that summer, there was no AC.

Mike, who was working at Pitfire, got me in touch with the CEO, this dude Jeff, and he has this guy James Trees call me. James Trees is this dope chef from Vegas. He has one of the best Italian restaurants out there right now. He says to me, "Buffalo, huh? I know one guy from Buffalo."

"Who?"

"Chef Teddy Bryant."

I flipped. "Dude, that my chef. I've been working with him for the last year." I was working with the only dude that this guy knew in my whole city because they worked together like fifteen years prior, in Vegas. My chef from Buffalo practiced under Trees when he was a lead line cook in Vegas. So I got hired off of the strength of that. I rose to lead line cook at Superba really quick, and that's when I got hired at Leona. I would go down to El Segundo for brunch service, then come back up to Venice, fall asleep on the beach in chef whites, wake up, and walk into Leona filled with sand and clock in.

I would take a little sink shower and hit my pits with some deodorant, and get to work. It was awful, and all just to make maybe $20,000/year, eat ramen noodles, pay for Ubers, and barely make my rent. And then Gjusta, that place changed my W2. I went from making $20,000/year to $50,000/year overnight. Then I leased a car, a Toyota Corolla, got a single in Beverly Grove, and balled out for no reason.